RMDT Nutracker Auditions FAQ's
Tuesday, May 22, 2018
What is the Nutcracker?
For over 20 years, Rocky Mountain Dance Theatre has produced the annual production of the Nutcracker in Cody, in December. This full length professional production features master dancers along with over 100 children from Cody and the surrounding areas. RMDT is the non-for profit organization in relation to Rocky Mountain School of the Arts also in Cody, Wyoming.
When is the Nutcracker audition?
Tuesday, May 22, 4:00-7:00
Audition Times *come for the time slot of your child's current age
4-4:15           3 and 4 year olds (girls and boys)
4:15- 4:30      5 and 6 year olds (girls and boys)
4:30- 5:00      7-8 year old girls
5- 5:30          9 and older girls (without pointe shoes)
5:30- 5:45      Boys 7 and older
5:45- 7:00      Pointe auditions (any female over the age of 10 with pointe shoes)
Who can Audition? ANYONE
Do they have to belong to a dance studio?
No, but if they are given a pointe role, they must enroll in ballet and pointe class twice a week at RMSA.
Do they have to have dance experience?
No, there are many character roles for older participants. Younger participants may be awarded a dance
role.
Where is the audition?
Rocky Mountain School of the Arts; 2613 Sheridan Ave., Cody, Wyoming
What to wear?
Boys:  Black sweats or shorts, white t-shirt, white or black ballet shoes (socks if you don't have ballet shoes)
Girls:  Leotard, tights, pink ballet shoes.  Optional:  ballet skirt or ballet shorts.
*IF you don't have dance attire, wear something you can move in easily, and socks.
What to expect at the audition?
Those auditioning will be given numbers to pin on them.
Parents will need to be present to fill out a registration and policy waiver sheet before the audition time.
Auditioning days have a lot of people in the studio at one time, please keep your kids calm & quiet so everyone can hear for when their group is called into audition.
Those auditioning will be asked to perform different steps or act out different roles.
Parents cannot watch or be in the audition room
What happens after the audition?
A casting list will be posted on the website:  www.rockymountaindancetheatre.org as well as on the front door of the studio.  Posting is usually done a week after the audition.
If you receive a role, rehearsals will begin in September and most rehearsals will be Monday's after school.  Exact rehearsal schedules will be sent to your email in the summer.
What is the fee to participate in Nutcracker?
The fee to participate is $35 for one role, $15 for each additional role. This fee covers rehearsals and costume rental/cleaning.
Full fee amount is due at the time of the first rehearsal in September.
This fee 

does not

cover dance shoes, tights, leotards, etc.
Nutcracker fees will be posted to your online account.  If you are new to our system, a password will be sent to you through email.
Other Expectations of Participating in the Nutcracker?
Please be aware, as this is a professional production, attendance to all practices/rehearsals is extremely important.  Participants are allowed two absences; which includes sports, sickness, or family vacations.  If you will not be able to participate because of the attendance policy, Elizabeth will have to assign the roles given to your participant to someone else.
Any questions? Please feel free to call 307-527-9973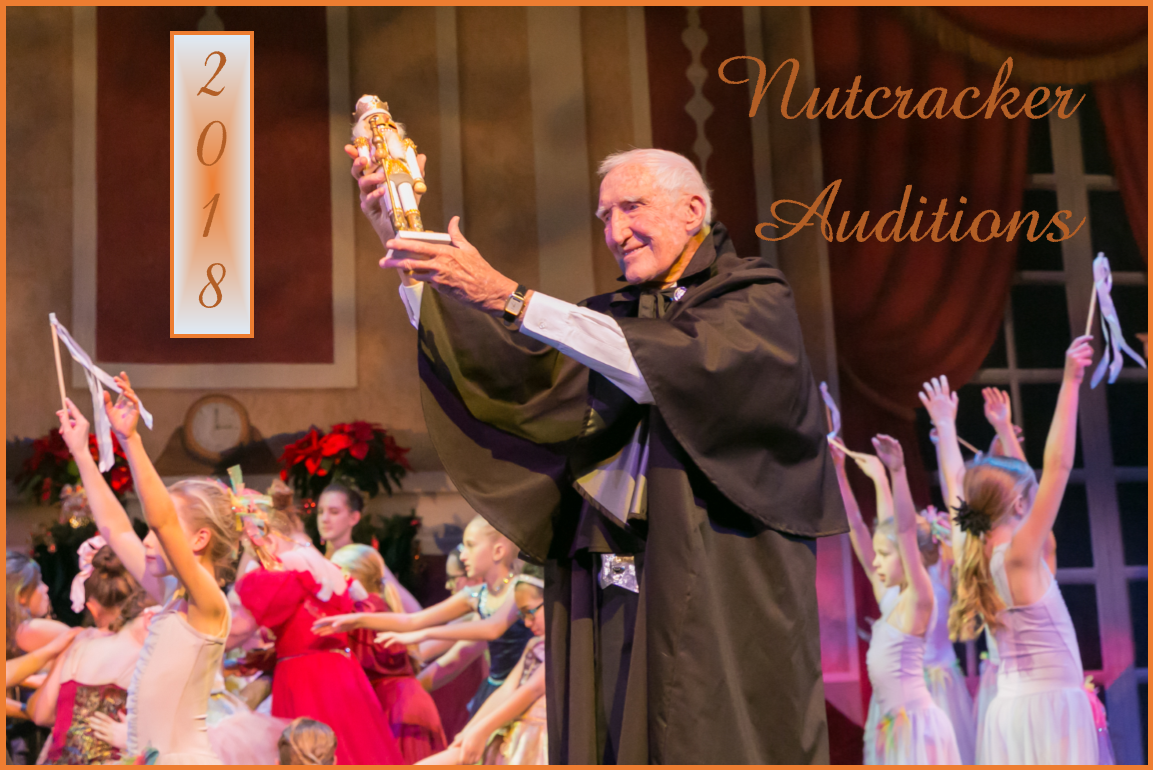 Photo Credit: Pistachio Alley